Kristian Jacobsen, B.Sc., R.M.T.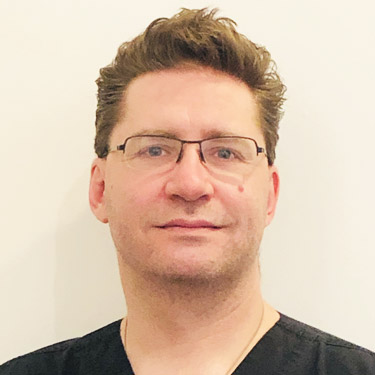 As lifelong proponent of physical action, Kris had worked in various fields before a skydiving accident broke both of his legs and caused him to pursue a different career path. Time spent recovering further impressed upon him the importance of continual health awareness and focused his attention on health and rehabilitative care. "I have always been a proponent of massage, and this life change has helped propel me into the career that I love today".
Focused on Quality of Life
Kris strives to assist people in gaining back quality of life. He is a graduate of the 2200 hour Therapeutic Massage program at Grant MacEwan University in Edmonton. As well as continual training with others modalities, such as myofascial cupping, Kris specializes in lotion-free massage in an effort to return you to your day – naturally refreshed and focused, without feeling oily or sticky.
"At The Chiropractors at Commerce Place, I draw upon life experiences, including my Undergraduate degree in Biology at the University of Alberta, as a Sempai (instructor) of the martial art of Ju-jitsu, and a varied work history, to further understand each clients' needs and limitations, individualizing each treatment to bring a deserved quality of life back".
"Communication is the key to a successful massage session – if there is anything I can do to improve your experience, just ask! I'm here for you"!
Contact us today to schedule your appointment.
---
Massage Therapist Edmonton | (780) 423-6003